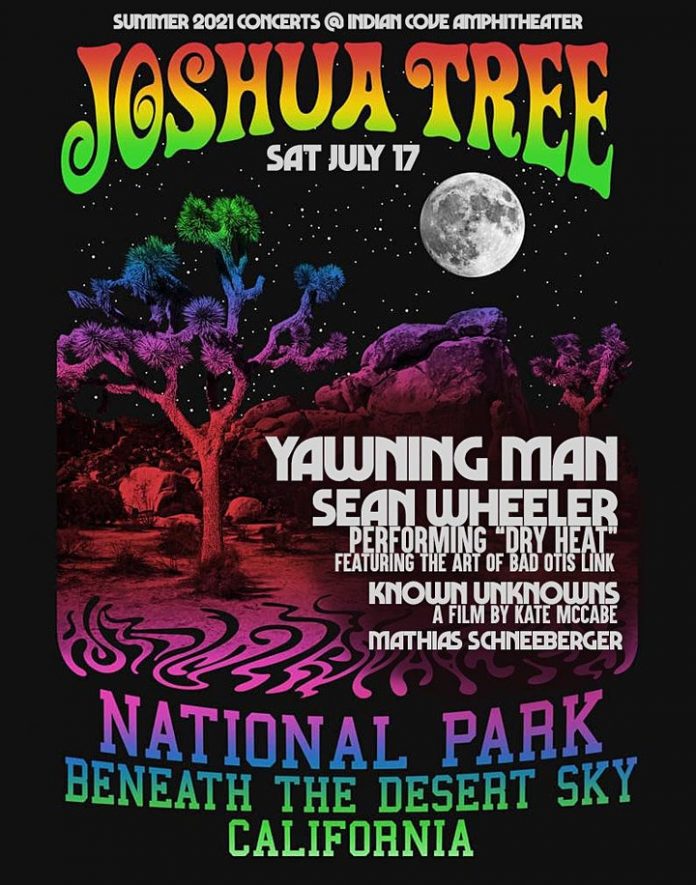 About this event: Joshua Tree National Park Association presents Beneath the Desert Sky
Summer 2021 Concerts @ Indian Cove Amphitheater
A Fundraiser for Desert Institute
Saturday, July 17, 2021, featuring Yawning Man, Sean Wheeler performing "Dry Heat," featuring the artwork of Otis Link, Mathias Schneeberger, and "Known Unknowns," a film by Kate McCabe.
Ticket price includes a Joshua Tree National Park reusable bag, a Beneath the Desert Sky T-shirt and sticker, and a Visit 29 water bottle and sticker. Please include your T-shirt size(s) with your order.
For an additional $20, purchase a signed copy of DRYHEAT, words by Sean Wheeler, and art by Bad Otis Link. The 32-page book includes a download card of Sean Wheeler and Aldo Struyf performing the book (to be released on vinyl on Last Hurrah Records just in time for the holidays), plus other secret goodies…
For an additional $20, you may also purchase a Beneath the Desert Sky poster signed by all the artists, and 2 Jim Dunlop/Tortex Beneath the Desert Sky guitar picks.
**ITEMS AVAILABLE FOR TICKET HOLDERS ONLY. WE WILL NOT BE SHIPPING THESE ITEMS. IF YOU DO NOT HAVE A TICKET FOR THE EVENT, YOUR PURCHASE WILL BE REFUNDED.**
NO TRANSFERS. NO REFUNDS.
We reserve the right to cancel or reschedule in the event of inclement weather or other health-related concerns.
Smoking of any substance at the site will be strictly prohibited. Attendees may bring their own alcohol, but over-consumption is discouraged. Unless vaccinated, attendees will be required to wear masks. Make sure to have a red-filtered flashlight handy for the walk back to the car after the concert.
Ticket holders will be sent a separate email prior to the event with additional instructions, including how to enjoy the concert safely and responsibly. Please make sure to provide a valid email address.
Yawning Man hail from the arid desert area of Southern California, and have been playing, jamming, and recording since 1986. Most of their fans and those heavily influenced by them consider them to be 'the originators' of the entire "Desert Rock" movement/genre. Influenced by everything from the psychedelic to the folkloric, jazz, hard rock, roots punk, world music — while hard to describe, one could say the sound and mood of Yawning Man is visual and cinematic, heavy and melancholy, driving & daydreamy…
Sean Wheeler is an American musician and singer-songwriter whose music is generally characterized by emotional intensity, a wide variety of influences, and theatrical, charismatic live performances. As a pioneer in the Palm Springs underground music scene (well documented in the award-winning film Desert Age), he went on to helm a number of desert bands that explored ska, sleng teng, glam, and biker/sleaze/space rock. Summoning the spirit of the Salton Sea, Mr. Wheeler launched the punk n' roll band Throw Rag in 1993. Several albums and international tours later, Throw Rag continues to thrill audiences when they play occasional shows.
Bad Otis Link is a Los Angeles artist that illustrated the early southern California punk and music scene as it happened. Otis is well known for his t-shirt, poster, magazine, and gallery art. He designed and produced the highly collectible early Goldenvoice Concert Shirts and flyers, and designed and produced merchandise for iconic touring bands of the time. Past clients include The Red Hot Chili Peppers, Social Distortion, The Circle Jerks, The Damned, Spinal Tap, and many others. Today he lives in the California high desert where he designs and sells his limited shirts, posters, and art at the Coachella music and art festival.
Kate McCabe founded the art collective Kidnap Yourself near Joshua Tree in 2005 soon after graduating from CalArts with an MFA in Experimental Animation. Her films have screened internationally and most recently at the Palm Springs Art Museum, as well as streaming as part of a Canyon Cinema collection through Kinoscope. Since 2008, Kate has published a book series about her life in the desert, "Mojave Weather Diaries" now included in the Luna Arcana. She has worked as both an educator and artist, exploring themes of our communication mishaps and our connection to the landscape.
Mathias Schneeberger is a Los Angeles based music producer, mixing engineer, film/tv composer, and a classically trained multi-instrumentalist who has worked on critically acclaimed and commercially successful records with artists such as Mark Lanegan, Foo Fighters, Joseph Arthur, Greg Dulli/The Afghan Whigs, Earth, Sunn 0))), and Masters of Reality.
The Desert Institute at Joshua Tree National Park Association offers classes for adult learners in cultural history, natural science, survival skills, desert naturalist studies, women's programs, citizen science, and creative arts. All programs are taught by expert instructors who provide a personal and enjoyable learning experience on these educational adventures. The Desert Institute is committed to providing a rich, inclusive learning environment aimed at inspiring people of all ages and backgrounds to appreciate and preserve cultural resources and natural places associated with Joshua Tree National Park and surrounding public lands.
A sincere thanks to our event sponsors: Yamaha Guitars, Visit 29 Palms, 29 Palms Oasis Inn & Suites, Jim Dunlop/Tortex, Burrtec Waste & Recycling, and Concept 360.
Tickets + all info HERE