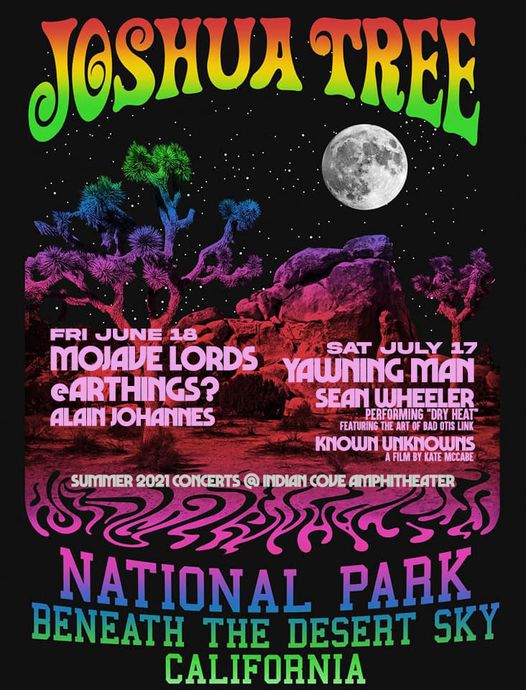 Joshua Tree National Park Association presents
'Beneath the Desert Sky'
Summer 2021 Concerts @ Indian Cove Amphitheater
in Joshua Tree National Park
A Fundraiser for Desert Institute
Friday, June 18, 2021:
earthlings? , Mojave Lords, Alain Johannes, and very special guests
Saturday, July 17, 2021:
Yawning Man (Official), Sean Wheeler with Bad Otis Link performing "Dry Heat," and Known Unknowns, a film by Kate McCabe
It has been almost a decade since we've hosted a live music concert in this fantastic space. Join us for this unique sonic experience Beneath the Desert Sky.
Tickets for the June 18th show will go on sale Friday, May 14, 2021. A limited amount of seats will be available.
The Desert Institute at Joshua Tree National Park Association offers classes for adult learners in cultural history, natural science, survival skills, desert naturalist studies, women's programs, citizen science, and creative arts. All programs are taught by expert instructors who provide a personal and enjoyable learning experience on these educational adventures. The Desert Institute is committed to providing a rich, inclusive learning environment aimed at inspiring people of all ages and backgrounds to appreciate and preserve cultural resources and natural places associated with Joshua Tree National Park and surrounding public lands.