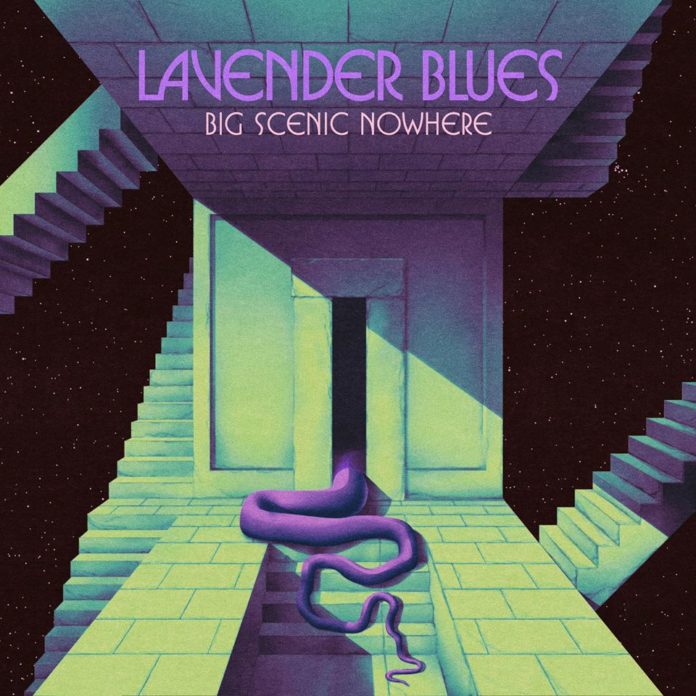 ALBUM DESCRIPTION:
BIG SCENIC NOWHERE is coming back with a new killer Ep titled "LAVENDER BLUES" ….the band boasts a core of members consisting of Bob Balch from FU MANCHU, Gary Arce from YAWNING MAN, Bill Stinson from YAWNING MAN and Tony Reed from MOS GENERATOR. This time the album is going to feature great names like Per Wiberg of OPETH and SPIRITUAL BEGGARS on synth and piano, Daniel Mongrain of VOIVOD on guitar and finally Chris Goss, the mighty producer of KYUSS and of MASTERS OF REALITY on guitar.
The sound once again has this mellow and psychedelic attitude, with pinches of space rock and a matrix of desert sound, but you can also hear some progressive passages, and old school hard rock riffing here and there.
The Ep has a length of 25 minutes and is composed of 3 songs. One is a long suite of 13 minutes, all songs mixed and mastered by Tony Reed. The album once again features the cover art of the visionary Max Loeffler.
TRACKLIST:
1) Lavender Blues
2) Blink of an Eye
3) Labyrinths Fade
RELEASE DATE:
OCTOBER 23rd
RELEASED IN:
20 ULTRA LTD TEST PRESS VINYL
150 ULTRA LTD HALF-HALF YELLOW/PURPLE VINYL
350 LTD NEON GREEN VINYL
BLACK VINYL
DIGIPAK