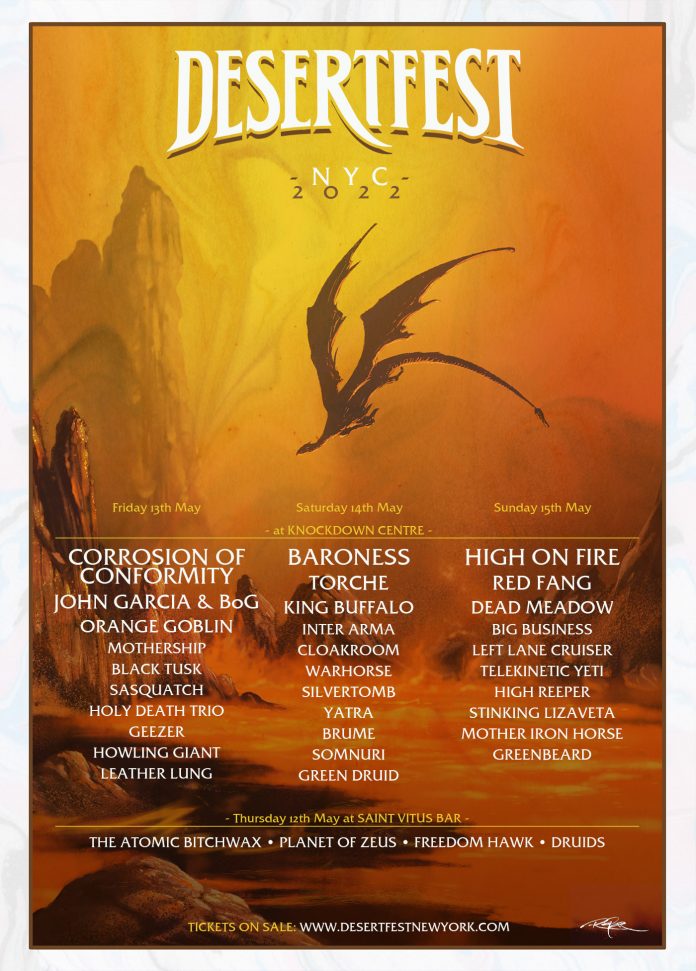 JOHN GARCIA 
& the
Band of Gold
added to Desertfest New York 2022!
Official Announcement
Additional changes were inevitable, but we promised you some excellent replacements. With the loss of Monster Magnetto Friday's line-up, due to injury, Desertfest is thrilled to be welcoming the ultimate namesake & true living legend, Kyuss front-man JOHN GARCIA & his Band of Gold will roll into the Knockdown Center this May. A man who needs no introduction, Garcia shares the following – "My long-standing relationship with the Desertfest crew made it a no-brainer when they asked me to step in & play their second US edition. We'll be bringing a set of old favorites & future favorites,as we celebrate the true sounds of the Palm Desert."
We are also sending huge amounts of love to Ukraine's Stoned Jesus who will no longer be able to make the trip to the USA for their performance at DF NYC, replacing them will be intergalactic heavy rockers MOTHERSHIP, who we know will be bringing a serious dose of the party.
It's with a heavy heart we also announce Green Lung are unable to travel at this time – 'We're devastated not to be able to play Desertfest NYC, due to visa issues. But we vow to make it across the pond as soon as possible – it's been a dream for as long as we've been a band, and rest assured we're doing everything in our powers to make it happen.' Filling their spot on the Saturday will be one of the best live-bands of current time, the mighty KING BUFFALO are sure to help ease the pain.
 The year 2022 is still a tricky path to walk with unfortunate, yet unavoidable, changes & challenges to navigate. However, we remain committed to bringing you an indisputable weekend of good music & good times as part of Desertfest NYC 2022.

3-day passes (Knockdown Center only) & 4-day passes (incl. pre-party at Saint Vitus) are on sale now via www.desertfestnewyork.com/ticketing

Poster Artwork by Arik Roper