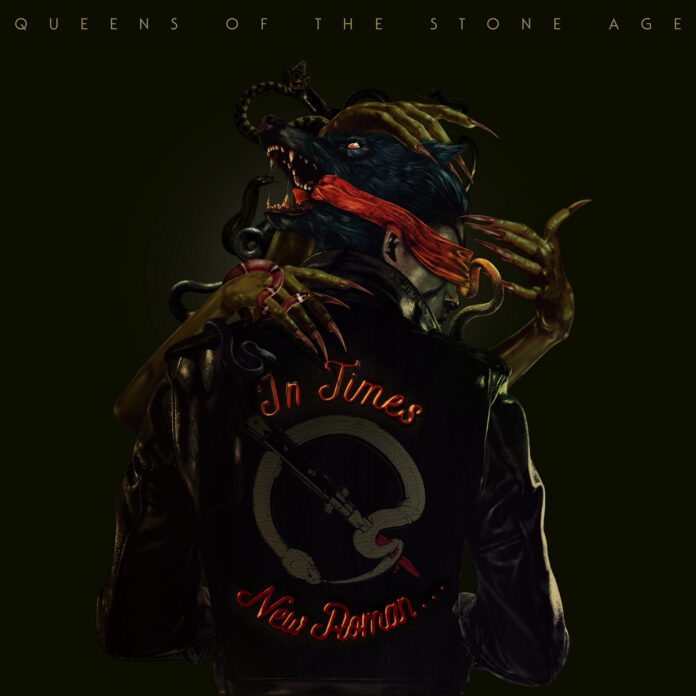 It's official, the new Queens of the Stone Age studio album it's titled 'In Times new Roman…'. The 10 tracks album follows the 2017 release 'Villains' and will be realeased June 16, 2023.
'In Times New Roman…', the 8th studio album from Queens of the Stone Age is raw, brutal & rough around the edges but with a refinement that reveals itself further with each successive listen — and QOTSA founder Joshua Homme's lyrics are as witty and withering than ever. The results are instantly identifiable; QOTSA's sonic signature, expanded and embellished with new and unprecedented twists in virtually every song, a live in-a-room recording that showcases a band at the height of their creative powers.
'In Times New Roman…' is a party for the obscene and the clean, the outcasts and the weirdos, and anyone and everyone in between. One of the most important bands in recent rock history is B A C K but it's no exaggeration to call this album a devastating rebirth.
Artwork And Double LP Gatefold Packaging Designed By Long Time Collaborator Boneface.
Recorded at Pink Duck Studios, Shangri-La Studio, Dumbfox Studio
Produced By Queens of the Stone Age Mixed By Mark Rankin
Preorder it HERE
QOTSA will start a world tour in support of the new release in May 26, check dates here.
TRACKLIST: 
Obscenery
Paper Machete
Negative Space
Time & Place
Made to Parade
Carnavoyeur
What the Peephole Say
Sicily
Emotion Sickness
Straight Jacket Fitting
Available versions
Opaque Red 2xLP
Opaque Green 2xLP
Opaque Silver 2xLP
Translucent Blue 2xLP
Standard Black 2xLP
Compact Disc
New Single Emotion Sickness is out now!
BANDCAMP STORE