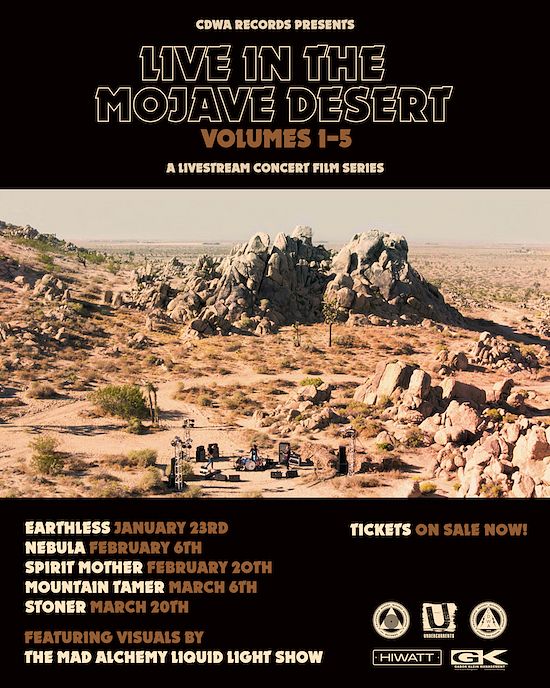 LIVE IN THE MOJAVE DESERT is a livestream concert film series created in the California wilderness, with performances from Earthless, Nebula, Spirit Mother, Mountain Tamer, and STONER (a new band by Brant Bjork and Nick Oliveri). Each film will be presented in a world-premiere, 1080p HD livestream event hosted by the California Desert Wizards, the bands, and your favorite rock heroes of the California Desert Rock scene. Get ready for rad music, good times, and other psychedelic weirdo content.
Inspired by Pink Floyd's Live at Pompeii, we made five new concert films and five live albums on location. We called up a few of our favorite bands – both new and legendary artists – and enlisted the Mad Alchemy Liquid Light Show to light up a huge double pyramid of boulders. To capture it all we brought in a crack squad of filmmakers, photographers and audio engineers, and now we bring it to music fans around the world.
WHO WE ARE: This series is produced and presented by CDWA Records and The California Desert Wizards Association (CDWA), the same folks who throw an annual live music event/generator party near Joshua Tree, CA called Stoned and Dusted.
WHEN: The series launches January 2021. It's been way too long since we have seen live rock shows and we all need it. We worked hard to bring you this series of five concerts as soon as we could get it done. Recorded in 24 track ProTools and shot in full HD, these films will turn your living room into psychedelic rock n' roll happening. Sit down, turn it up, and hang on.
EARTHLESS: Saturday 23rd January, 2021
NEBULA: Saturday 6th February, 2021
SPIRIT MOTHER: Saturday 20th February, 2021
MOUNTAIN TAMER: Saturday 6th March, 2021
STONER (Brant Bjork + Nick Oliveri): Saturday 20th March, 2021
Ages 18 & over