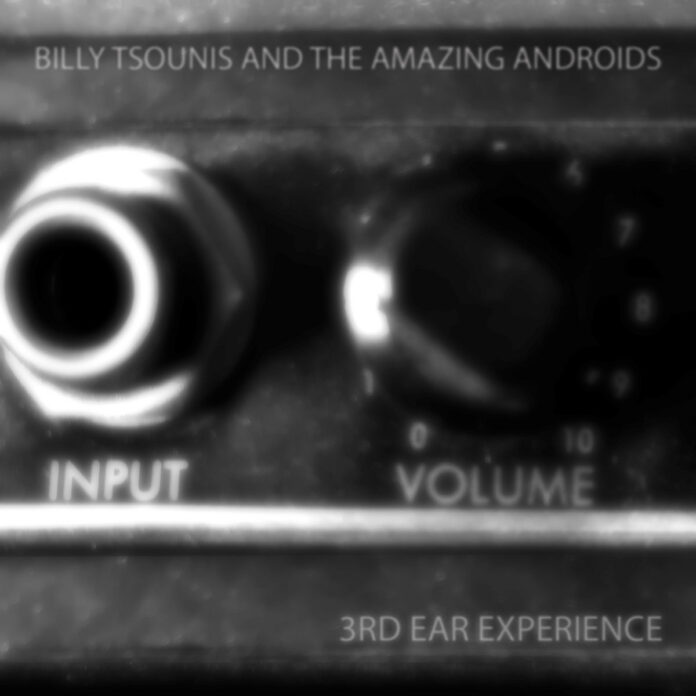 INPUT/VOLUME: Split album featuring Billy Tsounis and the Amazing Androids with 3rd Ear Experience. Billy was told by his professor at Berklee School of Music that he will "never be able to play guitar correctly".  Later he studied music with Roger Miller (Mission of Burma) who was a more experimental musician and saw in Billy a talent and he nourished Billy and encouraged him to push past his limitations and to always think out of the box. Robbi on the other hand was steeped in world music and well versed on Indian and turkish instruments namely the Vina and the Oud.  Robbi's band tribe after tribe were hailed as pioneers of world music with their style of music called "African Acid Rock". Billy and Robbi first met in Boston during a Tribe after Tribe tour of America. Late night motel discussions ranged from the state of music, the limitations of popular music, MTV, the cocaine deals to get radio play, A&R Lawyers; but mostly they spoke of their admiration for the likes of FRANK ZAPPA, ROBERT FRIPP, RAVI SHANKAR and MILES DAVIS. Many years later they would discover that they both studied Jazz guitar with the legendary african jazz guitarist ALAN KWELA. PEARL JAM offered to take Tribe after Tribe on tour, and Robbi called Billy – offering him the job of being his guitar tech so they can start working together. Billy joined the road crew and the inspiring conversations continued. Many tunes we composed over the years together which a few turned up on Tribe after Tribe albums. An inspiring friendship has grown between Robbi and Billy over 35 years. Billy being a studious musician would often photocopy and burn cd's of guitar lessons for Robbi. To this day Robbi acknowledges Billy as being one of his favorite guitarists, guitar teachers and the best guitar tech he ever had, often inviting Billy to do over dubs on recordings to push the song into a different orbit.
IINPUT/VOLUME is their first release and collaboration together and with their own projects. Schoenberg Blues is the one tune on the album featuring both guitarists and members of their respective bands recorded playing together in Robbi's desert studio.
Billy Tsounis and the Amazing Androids:
Recorded/ mixed by Dave Pearson at Peace Street Recorders, Grand Terrace CA
Billy Tsounis – guitar
Lucas Marquardt – electric cello
Noah Estrella- bass guitar
Austin Malik- drums.
Written by Billy Tsounis.
3rd ear Experience:
Recorded and mixed by Robby Robb at Star lane Studios, Joshua Tree CA.
Amritakripa – synths
Kyle Hanson – drums
Jorge Bassman Carrillo – bass
Robbi Robb – guitar
Mastered by Robbi Robb
Tracklist:
Doomface 13:39
Song of Rushes 10:56
Schoenberg Blues 31:14
Airport 05:20
Suspended in Melodicals 08:59