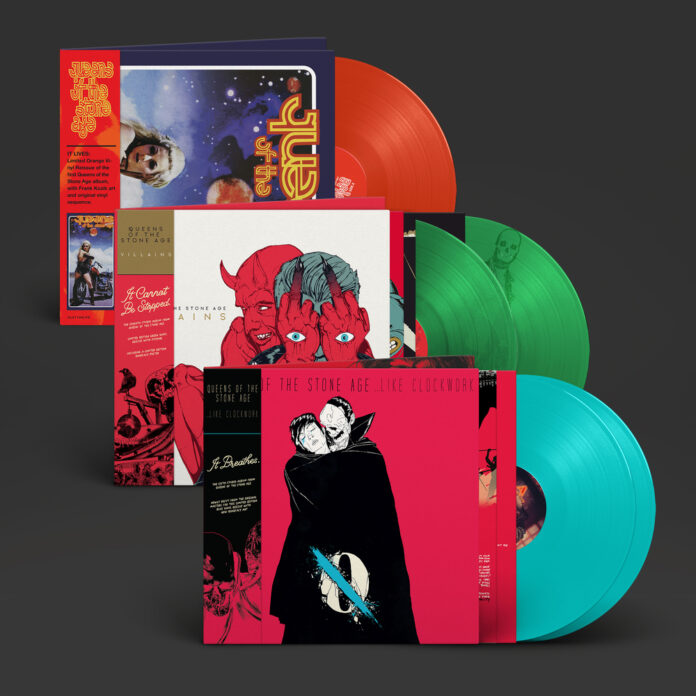 Queens of the Stone Age are ready to release new limited editions LPs. The titles that are gonna be out later this year are: 'Queens of the Stone Age' (1998), '…Like Clockwork' (2013) and 'Villains' (2017) in new fancy coloured vinil editions.
---

QUEENS OF THE STONE AGE (1998)
The landmark, debut album from Queens of the Stone Age is back in print for the first time in 10 years. Restored to its original sequence with the original, long out-of-print artwork by Frank Kozik. Featuring an obi-strip designed by longtime collaborator Boneface and pressed on standard black and limited-edition opaque orange vinyl.
Available October 21, 2022
---

…LIKE CLOCKWORK (2013)
The 2013 GRAMMY nominated 6th studio album from Queens of the Stone Age returns newly recut from its original master tapes with alternate artwork and an obi-strip from Boneface.
Available December 9, 2022
---

VILLAINS (2017)
Queens of the Stone Age's redefining, 2017 album produced by Mark Ronson and co-produced by Mark Rankin is reissued in a special, 5-year anniversary package with etching, obi-strip, and a limited-edition poster by Boneface.
Available December 9, 2022
---