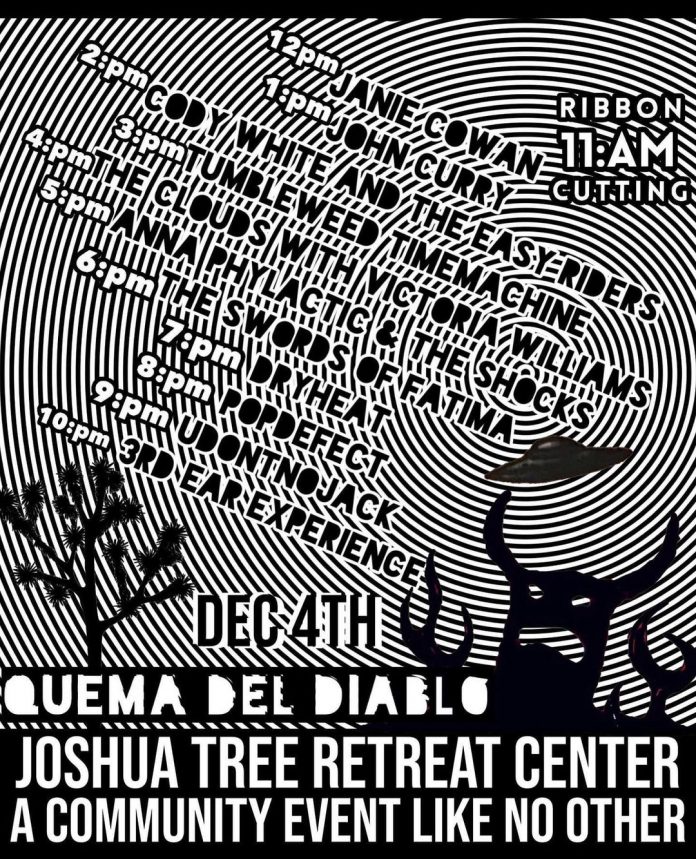 QUEMA DEL DIABLO (with Sean Wheeler's Dry Heat and 3rd Ear Experience), an all day celebration based on the Guatemalan tradition of clearing the bad from the previous year and rising anew from the ashes, returns to the Joshua Tree Retreat Center on Saturday, December 4th.
Proceeds from this year's QUEMA celebration will benefit the Joshua Tree Retreat Center's community programs.
SCHEDULE
Visiting from out of town? Book a room onsite and check-in on Friday night.
10 – 4pm: IGNITING THE ARTS – BY DAY
Come be part of the grand opening of our sculpture garden, meet the artists and visit our vendor village. Stick around for our Quema Del Diablo Celebration & music on the spirit stage all afternoon.
6-10pm: BURNING THE DEVIL – BY NIGHT
Music on the main amphitheatre stage all night long. Check-out the line-up below.
7-12pm: THE DAY-AFTER BRUNCH
Stick around for the DAY-AFTER community brunch at the Joshua Tree Retreat Center's Food for Thought Cafe (no reservation required, brunch sold separately and not included in ticket price).
INFO + TICKETS HERE