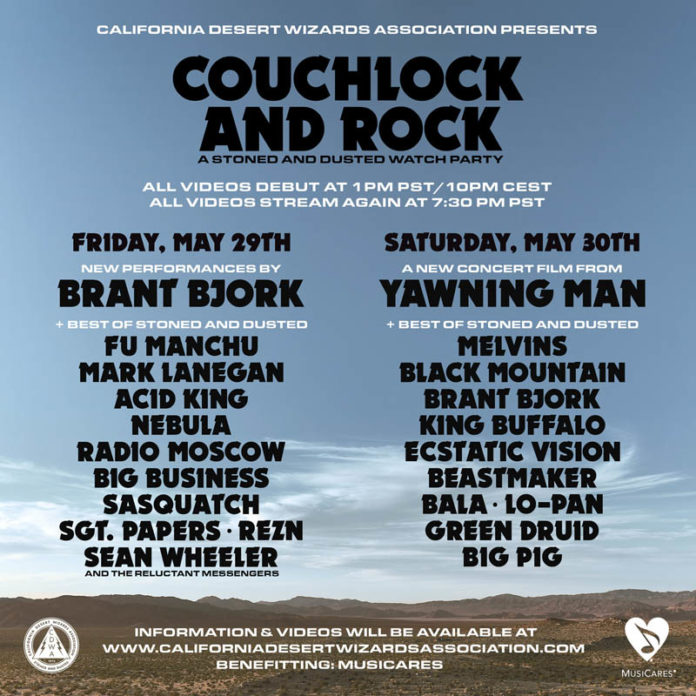 A Stoned And Dusted Watch Party, brought to you by the California Desert Wizards Association and hosted live by Brant Bjork, Mario Lalli , Desert Legend Sean Wheeler and friends. We have pulled together clips of some of our favorite performances from the Stoned and Dusted parties in 2018 & 2019 and will stream them for you for the first time online ever. We have also filmed some insanely rad NEW MUSIC CONTENT from Brant Bjork and Yawning Man (Official) that we will be proud to premier together with the previously mentioned Stoned and Dusted clips in a live stream on May 29-30.
ALL VIDEOS WILL DEBUT AT 1PM PST / 10PM CEST
ALL VIDEOS STREAM AGAIN AT 7:30 PST
RSVP here and we'll email you the livestream link 30 minutes prior to the premier on May 29 & 30!
https://mailchi.mp/californiadesertwizardsassociation.com/couchlock-and-rock
$10 SUGGESTED DONATION.
Your contribution supports COUCHLOCK AND ROCK* so that we may continue to bring you the raddest online content. Without your financial contribution, stay-at-home concerts like this will not be possible. Please join your fellow desert wizards and support this programming!
WE HAVE SOME COOL NEW MERCH (BANDANAS & WOMENS TEE) + MEMBERSHIP PACKS FOR SALE!
More info on the CDWA Member Packs is available at our website:
www.californiadesertwizardsassociation.com
Friday night's lineup: New performance by Brant Bjork and best of Stoned And Dusted by Fu Manchu, Mark Lanegan , Acid King , Nebula , Radio Moscow , Big Business, Sasquatch , Sgt. Papers, REZN and Sean Wheeler + the Reluctant Messengers.