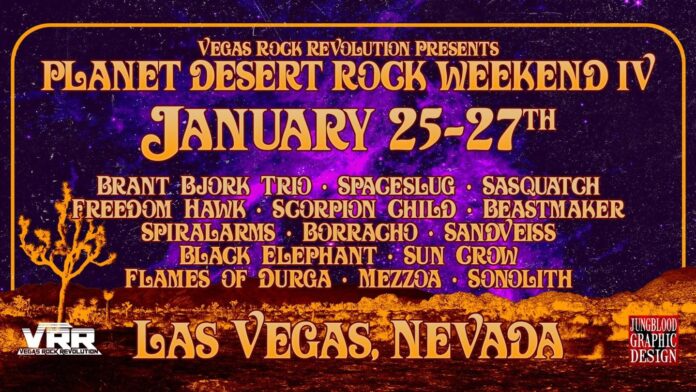 Planet Desert Rock Weekend IV on January 25-26-27, 2024 in Las Vegas!
Planet Desert Rock Weekend returns for it's 4th installment on January 25-26-27, 2024 in Las Vegas!
It will be 3 evenings of specially curated heavy rock from around the world.
The weekend of shows is crafted so you can enjoy Las Vegas during the day and come out at night to one venue and catch these rocking bands without missing a beat.
Lineup so far:
Brant Bjork Trio / California Desert- The legend Brant Bjork (Kyuss+ Fu Manchu) makes his debut at Planet Desert Rock Weekend and with him is the Godfather of the desert scene Marion Lalli on bass as well as Ryan Gut on drums. This promises to be one of the biggest highlights of PDRW IV!
Spaceslug / Poland – One of the preeminent space heavy psych bands in the world will bring their atmospheric otherworldly set to PDRW IV all the way from Poland. 1st USA show and only USA show.
Sasquatch / L.A – Known as one of the best hard-heavy rock bands around with not only a catalog full of catchy hook laden songs but as a very talented live band. They have played nearly every festival there is to play and we are honored to have them return for their 3rd appearance at PDRW
Freedom Hawk / Virginia Beach – The Hawk returns to PDRW and brings their 2 guitar highlighted heavy/stoner rock vibe and vocals that remind some of Ozzy. Have played all over Europe and the states. Freedom Hawk's 2022 release landed #1 on Vegas Rock Revolution's year end chart.
Scorpion Child / Austin – Made a huge splash with their debut and was even featured on "That Metal Show" featuring Eddie Trunk. Their retro sound and amazing vocals are at very high levels. Their return to the scene is great to have them back!
Beastmaker / Fresno – Beastmaker returns after not slaying the stage since 2018. Features Trevor William Church who also fronts the metal band Haunt as well is the son of Electric Bill Church from Montrose and Sammy Haggar. They blend doom and metal to make horror doom.
Spiralarms / Bay Area, CA – This will be a unique one time get together of Spiralarms and what an honor to host them. Excellent vocals via Tim Narducci who also is vocalist for heavy rock heavyweights The Watchers and killer guitars from Craig Lociciero from thrash band Forbidden.
Borracho / D.C. – Coming all the way from the nation's capital to make their 1st Vegas appearance and you should expect heavy riffing and grooving. Been around for years pounding out shows for east coast fans. Borracho just landed #1 on the Doom Charts for their 2023 release.
Sandveiss / Quebec City, Canada – Hard/heavy rockers from French Canada that have super strong rock vocals and some melodic sensibilities to go with guitar driven song composition. This hidden Canadian secret will be making their 1st out of country show right here in Sin City!
Black Elephant / Italy – Heavy psych rockers Black Elephant takes you on a journey that blends multiple influences and genres. The guitar work is outstanding….check their tunes and you shall see! 1st time in the States!
Sun Crow / Seattle – A rare appearance outside of the Pacific Northwest! Sun Crow came on the scene with their debut and heavy rockers from around the world took notice. This Ripple Music band has spacey doomy riff filled sound to them that takes you on a journey. There is a good chance we will have visuals to add to their PDRW set!
Mezzoa/ San Diego – Mezzoa returns to Sin City after a few years absent. With 2 super strong albums released they bring excellent song writing and melodic but yet rocking tunes that always get the crowd going.
Sonolith / Las Vegas – Returning after a highly energy charged set at PDRW III to kick off Night 3. Recently added a 2nd guitarist which will no doubt add to their massive sound. Recently went on tour and did their 2nd fest in 2023.
Flames of Durga / Joshua Tree – This desert rock band is fueled by twin sisters and they bring a wildly energetic live set each time. Their debut album was produced by desert legend Dave Catching. This power trio has been featured in Rolling Stone Magazine1
1 more band will be announced in the weeks coming up and we can't wait for you to see who we have!
The first two nights of shows will take place at the world class rock venue Count's Vamp'd which is owned by TV personality Danny Koker from the show "Counting Cars". The sound is superior to most anywhere that you have seen smaller shows at.
Final night will be in Downtown Las Vegas at The Usual Place.
Get Tix HERE