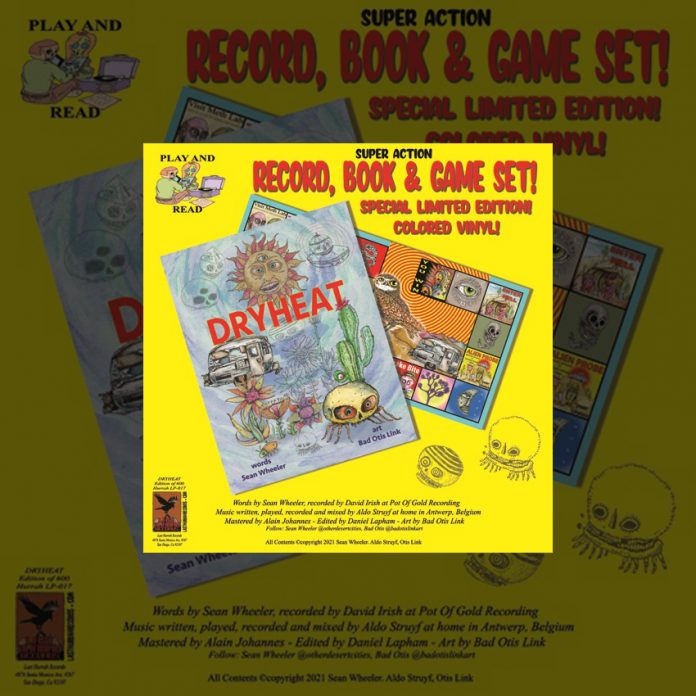 Last Hurrah Records is proud to announce the impending release of the limited edition vinyl version of Dry Heat featuring the evocative words of Sean Wheeler, the hallucinagenic art of Bad Otis Link, with a musical score composed and performed by Aldo Struyf.
The Dry Heat vinyl version is limited to 600 copies and comes in a full color gatefold jacket meticulously illustrated by Link. The gatefold jacket itself opens to reveal a playable board game designed by Link! The Dry Heat vinyl version also comes with a special signed and numbered limited edition version of the Dry Heat 32-page graphic novel by Wheeler and Link, a set of cardboard game counters illustrated by Link, and a download card of the musical performance.
The Dry Heat 12-inch vinyl comes in four colors – 150 translucent piss yellow, 150 translucent heated orange, 150 solid road runner baby blue, and 150 black vinyl.
Desert legend Sean Wheeler is an American musician and pioneer in the Palm Springs underground music scene.
Bad Otis Link is a Los Angeles artist best known for his imagery printed on t-shirts and flyers in the days of the early Southern California punk scene. Link has created iconic imagery for such bands as The Red Hot Chili Peppers, Social Distortion, The Circle Jerks, The Damned, and many others.
Aldo Struyf is a multi-talented, Belgian musician and band leader for Mark Lanegan's live performances during Lanegan's European tours.
Preorder HERE